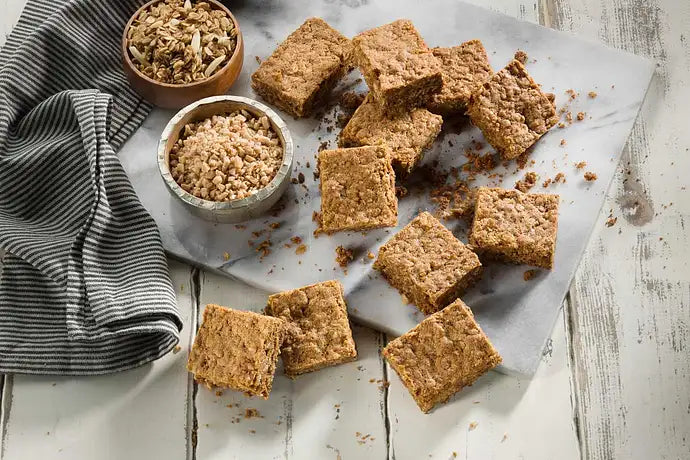 Vanilla Almond Crunch Toffee Bars
Sticky, chewy toffee. Who doesn't love it? With its flavor profile of caramel, butter and a hint of salt, these bars will quickly become your new favorite. The undertones of vanilla, from the Vanilla Almond Crunch granola and the vanilla extract, paired with the buttery sweetness of toffee bits, make these bars the chewy crunchy deliciousness you have been craving.
Recipe
| INGREDIENT | QTY. |
| --- | --- |
| Heath Toffee Bits | 8 oz |
| Laura's Gourmet Granola, Vanilla Almond Crunch | 12 oz |
| All-purpose flour* | 1 1/2 cups / 7.35 oz |
| Baking soda | 1 t |
| Kosher salt | 1/2 t |
| Unsalted butter, room temperature | 8 oz |
| Golden brown sugar | 1/2 cup, packed / 2.75 oz |
| Eggs, large | 2 each |
| Vanilla extract | 1 t |
| Heath Toffee Bits | 1/3 cup |
Yield about 30 bars
*May substitute gluten free flour blend using same weight for a gluten free cookie
Instructions
Preheat oven to 350 conventional (325 convection).  Prepare a 13x9x2 baking pan.
In small bowl, combine Heath Toffee Bits and Vanilla Almond Crunch. Set aside.
In a separate bowl, combine flour, baking soda and salt.  Set aside.
Cream butter in a large mixing bowl with a handheld mixer or in a standup mixer fitted with the paddle attachment. Scrape the bowl, then add brown sugar. Cream to combine well. Scrape. Add eggs and vanilla. Blend on medium speed.
Add flour mixture and combine on slow speed. Scrape.
Add Heath/Vanilla Almond Crunch mixture on slow speed.
Spread batter into prepared pan (batter will be stiff) and sprinkle remaining toffee bits over batter.
Bake 25 minutes or until a tester comes out clean. Cool completely in pan. Cut into desired size and shape. Store at room temperature up to one week.