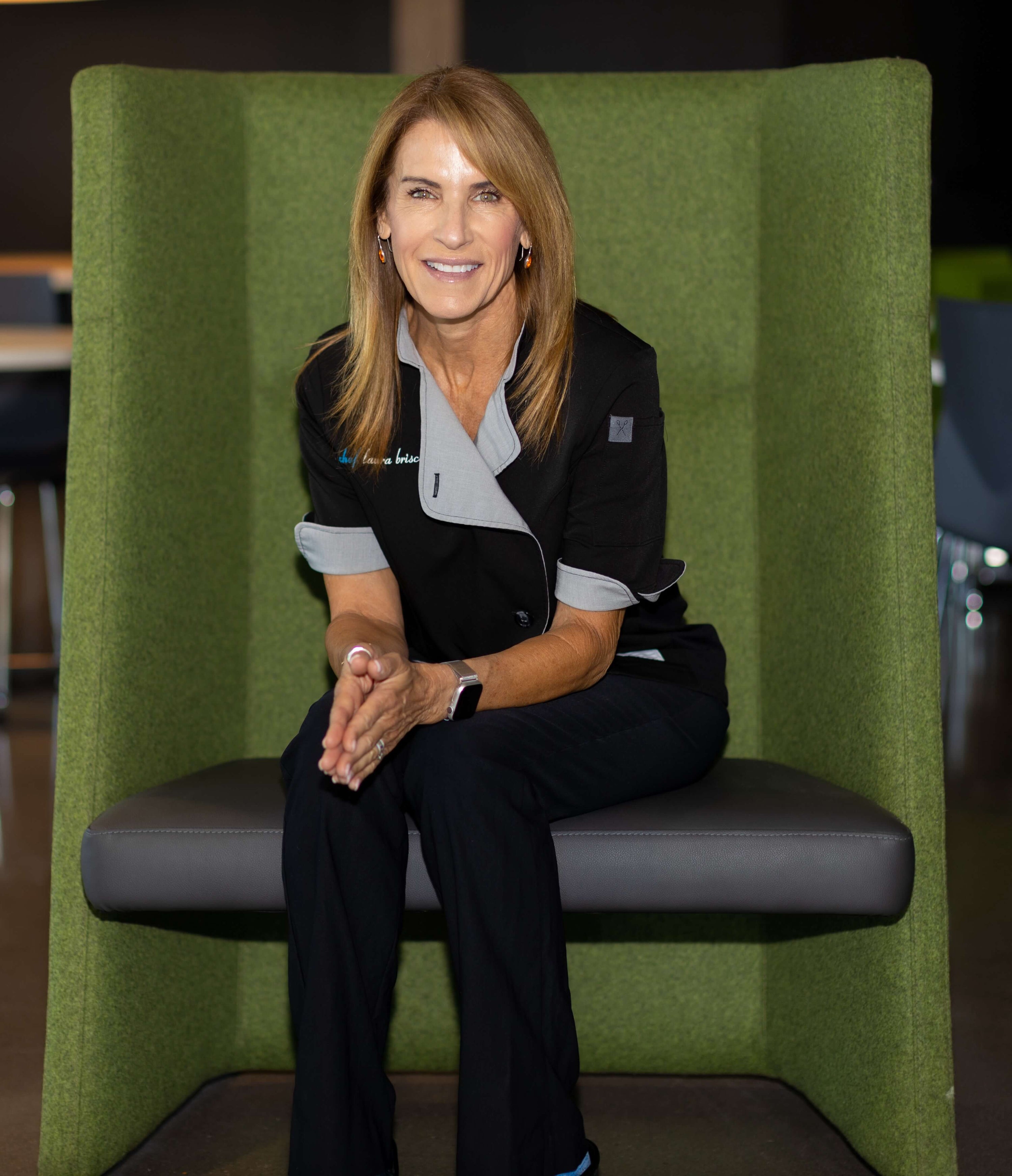 Hi! I'm Chef Laura,
Before I was a chef, I worked in the tech industry for some of the biggest names in business. Like a lot of people, I burned out from the nonstop grind, leaving tech to pursue my true passion for cooking, beginning with culinary school.
Upon graduating Le Cordon Bleu in Arizona, I started an upscale private chef and fine dining business that grew into one of the Phoenix metropolitan area's best which led to regular cooking segments on local news and talk shows as Chef Laura.
While growing my private fine dining business, teaching cooking classes and cooking on camera, I found myself experimenting with a granola recipe that could deliver the taste I'd loved during college but without all the fat, dairy and sugar. I modified one particular recipe again and again, experimenting with different ingredients, documenting each adjustment, with the sole objective of making a granola I would love.
All this effort led to the birth of Vanilla Almond Crunch, the first of Laura's Gourmet Granola's NINE flavors. Initially, I gave my granola away or included it as a gift in a cooking class or dining event.
But when I began to receive requests and offers of trade or compensation for it, my BFF strongly suggested I figure out how to bring Laura's Gourmet Granola to market...
With nothing more than strong intention and moral support from friends and family, I set my sights on the leading specialty retail grocer in Arizona, AJs Fine Foods. I walked the aisles, spoke with store managers and left samples everywhere I went.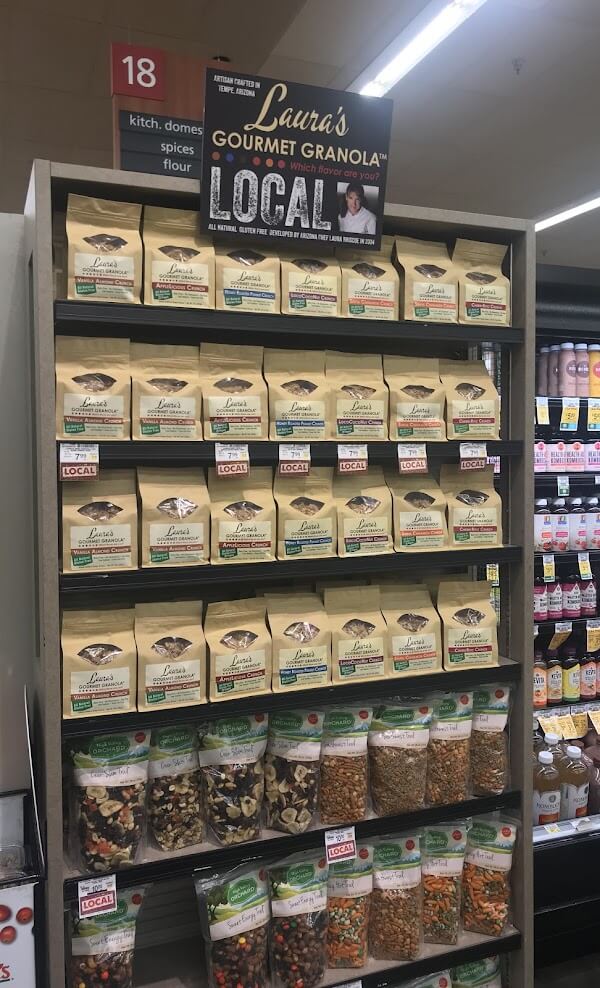 Finally, on a rainy day in May 2004, I serendipitously met the owner of this store (some say cornered) who agreed to support my efforts to stock the stores' shelves. True to his word, ten days later, I received my first "green light" to offer Laura's Gourmet Granola in their stores.
Since then, Laura's Gourmet Granola has grown as a retail brand available in AJs,  Whole Foods (regionally), Gelson's (CA), Central Markets (Texas), Roche Bros (MA), d'Agostino's and Gristedes (NYC), King's and Balducci's and , Sendik's (Wisconsin), and Pete's Fresh (Chicago) among many others, plus many independent retailers across the country.  
In addition to retail, Laura's Gourmet Granola has proven quite popular nationally as a foodservice option, gracing menus from Florida to Alaska for hotels, restaurants, corporate dining, professional and collegiate sports teams and healthcare.
We're proud to be certified woman owned, certified gluten free and certified kosher.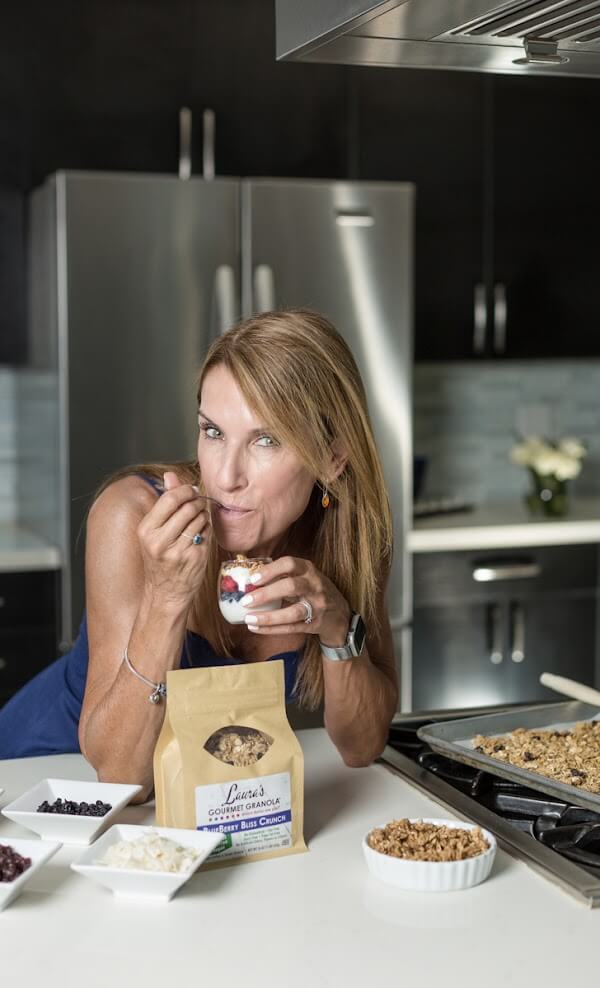 Whether in store or online, I invite you to discover this chef created, artisan baked classic granola.  
When it's chef driven, you can expect the perfect trifecta of taste, texture and mouthfeel – that's why we say "Crunch, Elevated".  
I love it, and so will you.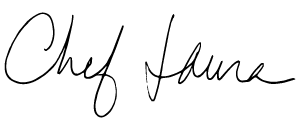 Chef Driven • Chef Trusted
Laura's Gourmet has been served by world-class chefs all over the United States
Kenneth Arneson

Executive Chef, Hilton Canopy, Tempe AZ

" have used Laura's Gourmet Granola on my menus at three properties. I selected Laura's Gourmet Granola purely based on quality, composition, flavor and versatility. The Vanilla Almond Crunch is my go-to on three different menu items at my current property. We use it for toppings, crust, soil and of course granola. I am so proud to be partnered with her company on my menus. Laura's passion, creativity and spunk are apparent in all of her products and it is no wonder that selecting her product was such an easy decision. Thank you Laura, for helping me shine through my menus with Laura's Gourmet Granola - your dedication to perfection is apparent in every bite.

Tim Weiderhoft

Chief Executive Officer, Wow Wow Hawaiian Lemonade

"At Wow Wow we make every recipe on our menu to have layers of flavors only possible with the curated layers of ingredients we use.

We chose LocoCocoNut Crunch for our Craft Acai Bowls and handcrafted Superfood Smoothies because we know it's the best, and our customers agree! Since we are always developing new seasonal recipes, you can safely bet we will use additional flavors from Laura's Gourmet Granola, like Pumpkin Pecan Crunch and BlueBerry Bliss Crunch. Of course, that assumes I can keep a bag here - my daughter loves it so much, she's always swiping mine!"

Amie Smith

Chef & Owner, AMIE BaKery

"My first experience with Laura's Gourmet Granola was on vacation at a resort in Phoenix. They served it as part of their menu, and I fell in love. At my destination shop, AMIE Bakery on Cape Cod, I use a variety of granola flavors in both for retail and in our recipes. The LocoCocoNut Crunch is perfect in our overnight oats, Vanilla Almond Crunch makes our streusel toppings pop, and Pumpkin Pecan Crunch tops our pumpkin muffins this season. You cannot beat the quality and consistency of Laura's Gourmet Granola-not to mention the brilliant flavor combinations that are available to create an infinite number of possibilities in our baked goods. Our customers love it as much as I do-and anyone who tries it one time is hooked!"

Nikki Metzger

Fitness Guru, Gym owner, Certified Trainer and Past Fitness Star + Nike Master Trainer

"As a fitness entrepreneur and certified trainer, plus someone who strongly believes in a healthy, balanced lifestyle, I know it's possible to indulge without being indulgent. That's why I love Laura's Gourmet Granola. I can enjoy my favorite - Vanilla Almond Crunch - and feel like I am getting a delicious, satisfying, crunchy treat while knowing every ingredient is clean, pure, and healthy. That's the definition of balance for me!"

Todd and Erica Stottlemyre

Entrepreneur & two-time Major League Baseball World Series winner, former starting pitcher with the Toronto Blue lags and his wife and business partner, Erica Stottlemyre

"In the Stottlemyre household, we eat Laura's Gourmet Granola almost every day. Laura's Gourmet Granola not only tastes better, but it's better for us since we know Chef Laura doesn't skimp on the quality of the ingredients. Her commitment to a healthy lifestyle is reflected in her product. So, 'Which flavors are we?' We are huge fans of Sinful Cinnamon Crunch and Honey Roasted Peanut Crunch.

We know Laura's Gourmet Granola makes us a healthier family."

Wendy Selig-Prieb

Businesswoman, lover of good food and champion for female entrepreneurs

"I've been a big fan of Chef Laura Briscoe and Laura's Gourmet Granola for years. In her previous chapter, Laura catered many events for me and always created five-star meals that were followed by hostess gifts of her delicious artisan granola. My favorite flavor is Sinful Cinnamon. Fortunately, today I can enjoy Laura's Gourmet Granola whenever I want (which is often!) by ordering online. There are many things I love about Laura's Gourmet Granola: the incredible flavor, the clean, pure ingredients and of course Laura's story, which includes being brave enough to explore her third act as an entrepreneur and CEO of a woman-owned business."