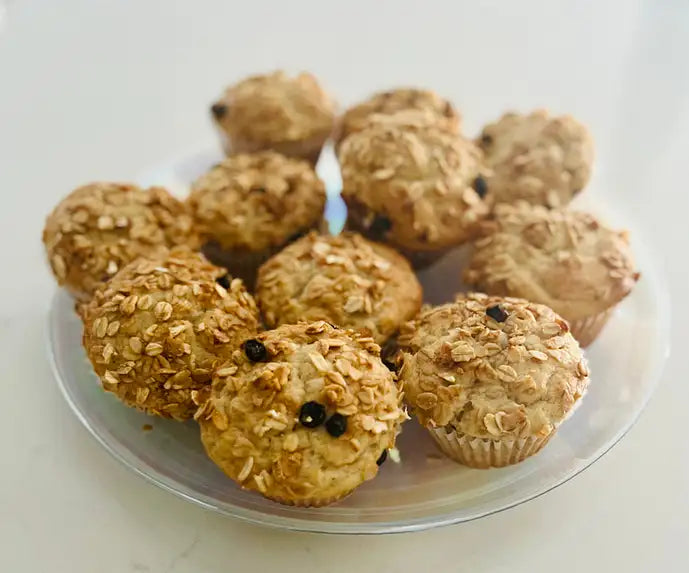 Banana Muffins with BlueBerry Bliss Crunch
| INGREDIENT | QTY. |
| --- | --- |
| All-purpose flour | 1 3/4 cups |
| Baking powder | 1 Tablespoon |
| Kosher salt | 1/2 teaspoon |
| Sugar | 3/4 cup |
| Vegetable Oil | 4 oz |
| Vanilla Yogurt, Plant-Based (KiteHill with Protein) | 1/2 cup |
| Bananas, mashed (not even slightly green) | 2 large |
| Vanilla Extract | 1/2 teaspoon |
| BlueBerry Bliss Crunch, Laura's Gourmet Granola | 1/3 cup |
(Yields 12 Muffins)
Instructions
Preheat oven to 350 degrees, conventional
Combine flour, baking powder and salt in bowl and set aside.
Whisk together the oil, yogurt and sugar.  Add the bananas and combine thoroughly.
Add in dry ingredients, stir until smooth.
Portion into 12 muffin liners that have been sprayed in muffin tin.
Top each muffin with BlueBerry Bliss Crunch.
Bake for 30 minutes, turning once halfway through.