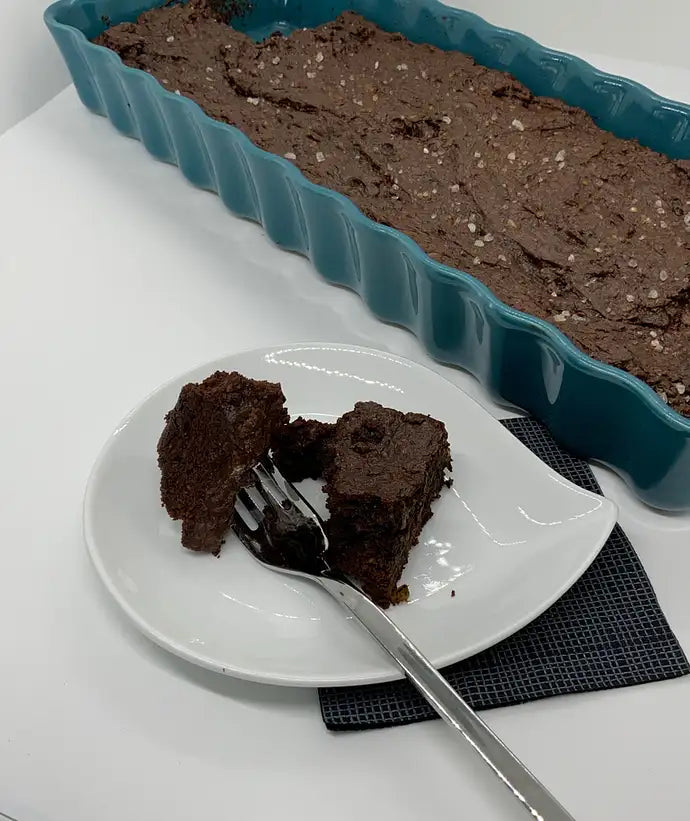 | INGREDIENT | QTY. |
| --- | --- |
| Eggs | 2 large |
| Sugar | 1/2 cup |
| Avocados, mashed until fairly smooth | 1 1/2 large  – 8.3 oz |
| Bittersweet chocolate, melted until smooth | 8 oz |
| Vanilla extract | 1 t |
| Avocado oil | 3 T |
| Laura's Gourmet Granola, Dark Chocolate Crunch | 1 1/2 cups/6 oz |
| Baking powder | 1/2 t |
| Kosher salt | 1/4 t |
| Chipotle Powder | 1/4 t |
| Bittersweet chocolate chips | 4 oz |
| Coarse Sea Salt | As needed |
 (Yields 12 Large Brownies)
Instructions
Place granola in the bowl of a mini chopper or food processor. Pulse multiple times until the granola is well ground with no visible chunks.  This is Dark Chocolate Crunch flour.  Set aside.
In a large mixing bowl, beat eggs and sugar until well combine using electric beater or whisk. Add avocados and melted chocolate and beat until fairly smooth.
Add avocado oil and vanilla and combine well.
Combine Dark Chocolate Crunch granola flour with baking powder, salt and chipotle powder in a bowl. Add the dry ingredients over avocado-chocolate mixture, then whisk together until a thick batter forms.  Fold in chocolate chips.
Spray desired baking dish; we recommend either a 9 x 9 or the Emile Henry 13.6 x 5 Tart Dish. Spread batter in dish and smooth. Sprinkle lightly with coarse sea salt.
Bake in a preheated 350-degree (325 convection) oven for 28-33 minutes or until a toothpick inserted into center comes out clean. We recommend keeping these in the refrigerator until ready to enjoy.