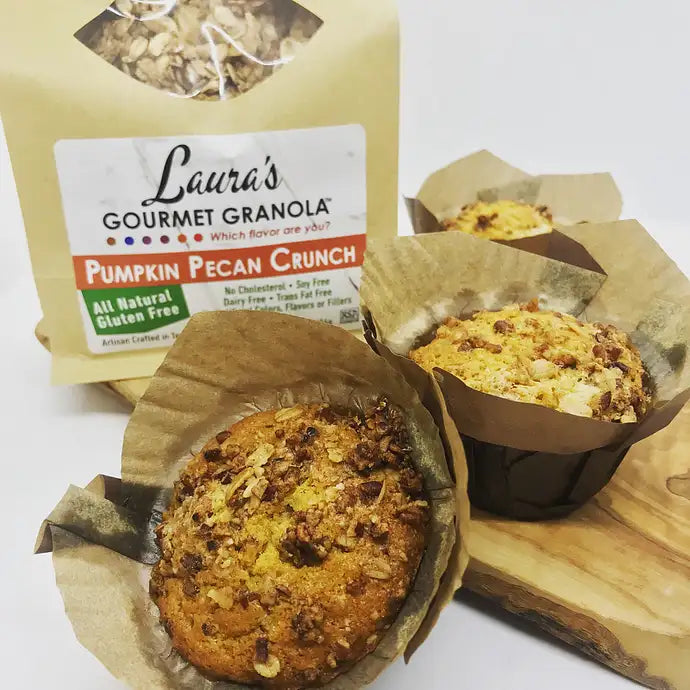 Pumpkin Pecan Crunch Muffins
| INGREDIENT | QTY. |
| --- | --- |
| All purpose flour | 1 1/2 cups |
| Baking powder | 1 t |
| Baking soda | 1/2 t |
| Kosher salt | 1/4 t |
| Sugar | 1 cup |
| Butter, unsalted, room temperature | 1 cup (8 oz) |
| Eggs, large, room temperature | 4 each |
| Pumpkin, canned | 3/4 cup (6 oz) |
| Vanilla bean paste | 1 T |
| Laura's Gourmet Granola, Pumpkin Pecan Crunch, for batter | 1 1/2 cups |
| Laura's Gourmet Granola, Pumpkin Pecan Crunch | as needed |
Instructions
Preheat the oven to 350 degrees. Grease and flour 12 muffin/cupcake liners and place them in muffin tins.
In a mixing bowl, whisk the flour, baking powder, baking soda and salt together and set aside.
In a large mixing bowl, cream the butter until smooth. Scrape the bowl. Add the sugar and vanilla and beat on high speed until light and fluffy, about 3-4 minutes.  Add the eggs, one at a time, beating on medium speed.
Alternately add the flour and the canned pumpkin, beating on low speed after each addition until just combined. Scrape bowl after each addition. Slowly stir in 1 1/2 cups of Pumpkin Pecan Crunch. Scrape bowl and evenly divide the mixture among the prepared muffin cups.  Sprinkle each muffin liberally with Pumpkin Pecan Crunch.
Bake for about 30 minutes or until a tester comes out clean. Remove and cool on a rack for 10 minutes then remove from the pans.