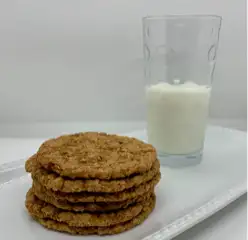 | INGREDIENT | QTY. |
| --- | --- |
| Sugar | 1/2 cup |
| Butter, unsalted, softened | 2 oz |
| Egg | 1 large |
| Vanilla extract | 1 t |
| Cream of Tartar | 1 t |
| Baking soda | 1/2 t |
| Sinful Cinnamon Crunch, Laura's Gourmet Granola | 2 1/2 cups OR 10 oz Cup measured before grinding |
| Sugar | 1/4 cup |
| Cinnamon, ground | 1 t |
Instructions
Place Sinful Cinnamon Crunch into a food processor.  Pulse multiple times until well ground.  This makes "granola flour".
Place the ground granola into a small bowl and add the baking soda and cream of tartar. Set aside.
In a large mixing bowl, beat the butter on high speed with a handheld mixer, then add the sugar. Cream until well blended.  Scrape the sides of the bowl and add the egg and the vanilla.  Beat until combined.
On low speed, combine the dry ingredients. Portion out cookie dough in scant 2 tablespoon balls.
Combine the 1/4 cup sugar with the cinnamon. Drop the portioned dough into the mixture and toss to coat.  Place on two parchment or Silpat lined half sheet tray at least 3 inches apart, 10 cookies per tray.  If your sheet tray is smaller, then use more trays.
Refrigerate at least 30 minutes. If you don't have room in your refrigerator for the sheet trays, then just refrigerate the portioned dough on a smaller plate.
Bake at 350 conventional for 8 minutes, rotating trays midway. If you bake convection, adjust temperature to 325 and bake for 7 minutes.
Allow Sinfuldoodles to cool completely before removing them from tray. Can be kept stored at room temperature in a tightly sealed container up to 1 week.
Note: To make an ice cream sandwich, soften desired flavor slightly.  Place about ¼ of ice cream on one cookie and flatten slightly.  Place a second cookie on top and press gently.  Roll ice cream edges in additional Sinful Cinnamon Crunch.  Prepared ice cream sandwiches can be frozen up to one week.