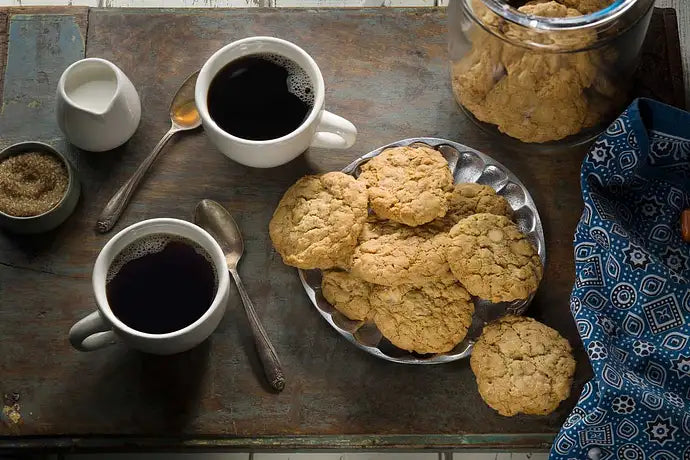 Sea Salted Caramel Applelicious Crunch Cookies
We know from childhood that caramel and apples were always meant to be together, and this delicious cookie is no exception. Whether using caramel bits, chopped caramel or salted caramel chips, when baked in combination with AppleLicious Crunch, with its cinnamon diced apples, it takes this cookie to another level. Golden brown sugar adds an additional undertone of caramel that brings us back to the sticky caramel apple we loved at the fall carnival.
Recipe
| INGREDIENT | QTY. |
| --- | --- |
| Gluten free flour blend | 6 3/4 oz |
| Baking powder | 1 t |
| Baking soda | 1/2 t |
| Kosher salt | 1/2 t |
| Unsalted butter, room temperature | 3 oz |
| Golden brown sugar | 1 cup, packed (5.5 pz) |
| Vanilla extract | 2 t |
| Egg, large | 1 each |
| Laura's Gourmet Granola, AppleLicious Crunch | 5.5 oz |
| Sea salted caramel chips | 6.5 oz |
| Celtic sea salt | optional |
Yield 24 1.25 oz cookies
Instructions
Preheat oven to 325 convection oven (350 conventional). Line sheet trays with parchment or Silpat.
Combine flour, baking powder, baking soda and salt. Set aside.
Using a standup mixer or a handheld, beat butter until smooth. Add brown sugar and beat until combined. Scrape the bowl. Add the vanilla and egg. Beat until smooth. Scrape.
Add flour combination and beat on low speed until combined.
Fold in AppleLicious Crunch and sea salted caramel chips and combine well on slow speed.
Using a 2 T portion scoop, portion cookies, at least 2 inches apart, on prepared sheet trays.
Sprinkle cookies lightly with Celtic sea salt, if using.
Bake 11-13 minutes, rotating once. Cool completely on trays, then store in a sealed container up to one week.