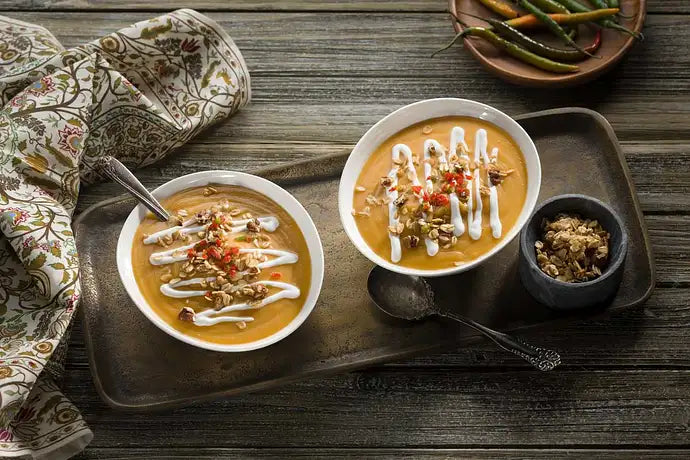 Roasted Acorn Squash and Sweet Potato Soup with Pumpkin Pecan Crunch
Roasted sweet potatoes and acorn squash are the base of the velvety texture of this soup. Roasted separately, then combined with caramelized sweet onion, garlic and Thai chilis, this vegan soup surprises the palate with its layers of flavors. The addition of coconut milk lends the perfect sweetness to the bite of the chilis and the simple garnish of Pumpkin Pecan Crunch granola adds the crunchy texture we all crave when enjoying the smoothness of a soup. We picked Pumpkin Pecan Crunch to complement this soup for its subtle pumpkin pie seasoning blend of cinnamon, cloves, ginger and nutmeg.
Roasted Acorn Squash and Sweet Potato Soup with Pumpkin Pecan Crunch Recipe
By Chef Laura Briscoe
Servings:
Yield 8 cups / 1 1/2 quarts / 48 oz
Ingredients
2 very large Sweet potato, garnet, sliced in half
2 medium Acorn squash, sliced in half, seeded
1 Sweet onion, large dice
4 large cloves Garlic, chopped
2 medium Red or green Thai chili, seeded, stemmed, chopped
4 1/2 cups / 36 oz Vegetable stock
7 oz Coconut milk, canned
Garam masala To taste
Kosher salt To taste
Vegetable oil
1 cup or as needed Laura's Gourmet Granola, Pumpkin Pecan Crunch
1/2 cup Cream from top of unshaken can of coconut milk
1 ea Red Thai chilies, thinly sliced
Instructions
Preheat oven to 425 degrees. Rub sweet potato flesh lightly with vegetable oil and season with kosher salt, then place flesh side down on a parchment lined sheet tray. On same tray, place acorn squash flesh side up. Drizzle with olive oil and season with salt. Roast until tender, about 25-30 minutes.
In a large stock pot or saucepan, heat about 1 T of vegetable oil over medium heat. Add onion and cook three minutes, then add garlic and Thai chilies.
When sweet potato and squash are tender, remove from oven. Peel skin from sweet potato and cut in large chunks. Add to onions in pot.
Scoop the flesh from the acorn squash and place in the pot with the sweet potato and onions.
Add vegetable stock and cook, covered, 15 minutes at a high simmer.
Using an immersion blender, puree soup until very smooth. Add coconut milk and puree again, then season to taste with garam masala and kosher salt.
Return to heat, simmer gently until ready to serve.
Toss Laura's Gourmet Granola, Pumpkin Pecan Crunch, with thinly sliced Thai chilies. To serve, put a small dollop of the coconut cream on each bowl and "float" the granola-chili blend on top. Serve immediately.