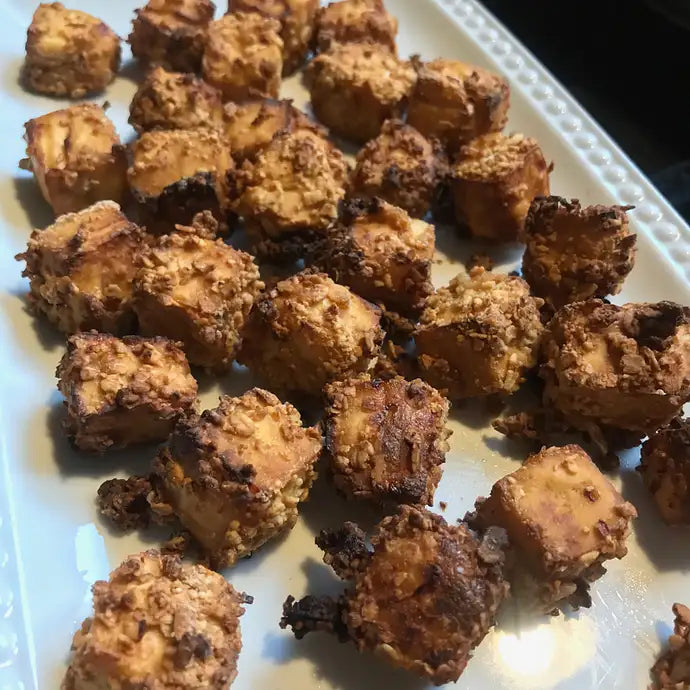 Honey Roasted Peanut Crunch Crusted Tofu Salad
Honey Roasted Peanut Crunch Crusted Tofu Salad Recipe
By Chef Laura Briscoe
Ingredients
1/4 cup White miso paste
1/4 cup Rice Vinegar, unseasoned
1 teaspoon Ginger, minced
1 Tablespoon Vegetable oil
1 t or to taste, optional Soy Sauce or Tamari (for gluten free) or Coconut Aminos
Sesame Oil To taste
1/4 cup Green onions, thinly sliced
1/2 cup Edamame, shelled
1/2 of one English Cucumber, medium dice
1 large Avocado, medium dice
4 oz Baby Spinach
1 bag (12 oz) Broccoli Slaw
1 block – 14-16 oz Extra Firm or Firm Tofu
2 oz or as needed Soy Sauce or Coconut Aminos
1 1/2 teaspoons Sriracha
1 T Cornstarch
1 cup, before grinding Honey Roasted Peanut Crunch
Instructions
Drain tofu from package, place on a paper towel lined cutting board, cover with another paper towel and place a plate over the towel. Using a weight (we like a 28 oz can of tomatoes), allow the tofu to drain completely, about 30 minutes.
While tofu is draining, combine miso, rice vinegar and ginger in bowl. Whisk well. Add vegetable oil and soy sauce. Drizzle in sesame oil for seasoning to taste. If you prefer the salad with a little heat, season with sriracha. Refrigerate until ready to use.
Make marinade for tofu: In a separate bowl, place the soy sauce or coconut aminos and sriracha. Taste and adjust seasonings.
Remove the drained tofu from the towels. Place on cutting board and cut into 1 inch cubes. Place tofu into the marinade. Allow to marinate at least 20 minutes. The longer it marinates, the more the flavors will be absorbed by the tofu.
Place the granola into the bowl of a mini chopper. Coarsely grind but do not make it flour. Place in a shallow bowl or high sided dish and add the cornstarch. Toss together to mix completely.
Drain the tofu gently from the marinade. Add to the granola and toss to coat.
Place in a single layer in a preheated air fryer set for 370 degrees. Set timer for 15 minutes and air fry, shaking pan gently once about halfway through.
Alternatively, heat a large sauté pan over medium high heat with 1/4 inch of vegetable oil. When the oil is hot, add the tofu and fry until deep golden and crispy. Remove and drain.
Toss baby spinach and broccoli slaw with white miso vinaigrette (do not drown greens). Plate greens, topping with green onions, edamame, avocado and cucumber. Top with the crusted tofu and wasabi peas, drizzling with additional vinaigrette, if desired.